第四屆樂善杯
4th Lok Sin Cup
11/12/2005.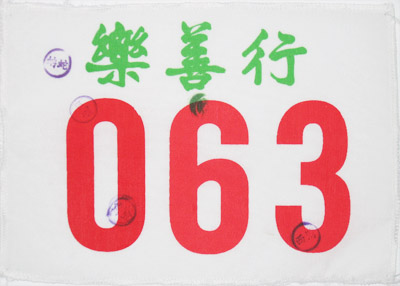 I finished in 4 hr 45 min, 359th overall.

| | |
| --- | --- |
| 北潭坳 | 28'21"60 |
| 大浪凹 | 1:00'04 stretch rest 0.5' |
| 蚺蛇尖 CP1 | 1:32'34 |
| 長咀口 | 2:11'55 |
| 長咀 CP2 | 2:22 長咀頂 shoelace rest 1' |
| 長咀口 | 2:46'35 |
| 鹹田灣 CP3 | 3:17'50 鹹田灣尾 stretch rest 0.5' |
| 西灣 | 3:39'32 吹筒坳 stretch rest 1' |
| 西灣亭 CP4 | 4:06'49 |
| 萬宜坳 CP5 | 4:37'28 |
| 北潭涌 Finish | 4:45'33 |
Stage 1
I brought half a bottle of sports drink from the start, together with 1 L of water in water bag.
I start with a pair of gloves, for keeping my hands warm, and prepared for the rough trails.
The first trail going up Pak Tam Au was heavily jamed.
Many people ran too fast on the flat road, but did not have the skill of climbing up trail terran.
They step on the stairs made from large stone, but I passed them on the side of the stairs.
On reaching Pak Tam Au, the time was exactly the same as in my fastest training.
Tai sir prepared a bottle of water for each of us at Tai Long Au.
As the weather was not too hot, I decided not to take that bottle of water but a photo and skipped the support point.
The trail up Sharp Peak was very windy, in fact, we could have falled.
I crawed with four limbs like a monkey, it's more stable and faster.
Someone may have to wait for the traffic, but I can pass them by climbing the high rocks.
It's 20 min faster than that in my training.
Stage 2
Going down from Sharp Peak was the real traffic,
we waited for nearly a couple of minutes to see the people in front started to move.
Four-limb-drive strategy still employing.
On the steep trail down Cheung Tsui, I felt a few times, but one was quite heavy.
I landed with my right palm taking the weight directly, bruising developed since then.
(Minor pain was found in my left shoulder after I came home, the joint was directly suffered.)
A thrid packet of Powerbar was consumed after finising the downhill trail.
On reaching Cheung Tsui, there were volunteers giving water to us.
I considered the official should set a water station here.
It's now half an hour faster than in training.
Stage 3
The second thrid packet of Powerbar was consumed on the way up the 98m trigonometrical station.
I could run faster, but it's hard the overtake on the narrow trail.
On reaching Tung Wan, I ran on the wet sand, which was easier to run on.
For Tai Wan, same strategy was used, and I consumed the remaining last thrid packet of Powerbar.
Amazing 45 min ahead of my training time.
Stage 4
When I reached Ham Tin Wan, I saw drinks for sale, but not from the official.
I estimated that there was not much water left in my water bag,
yet, I didn't want to waste time on buying water.
So, I gambled to run on nearly empty tank until Sai Wan Pavilion.
It's the first time I tried to run on the soft sand across Ham Tai Wan. It not so hard.
For Sai Wan, I could run on the wet sand (at this late stage).
On the way up Chui Tung Au, many runners cramped.
Some of them have to stand still for a while, some were applying analgesic gel to their quadriceps.
If I walk up slowly without overloading, I can pass them.
The water bag just dried up before reaching Sai Wan Pavilion.
Wow! a full hour ahead of my training time, 5.5 hr was no longer my target then.
Stage 5
I just took a bottle of sports drink, it saved time for eating powerbar instead.
I could keep slow running on flat road, fast walk on gentle slope.
Cramping was near, yet never happened, and I managed to overtake others on down slope.
Extra 5 mintues gained.
Stage 6
The down slope from the reservoir was the last chance to finish in faster time.
My left calf (possibly Tibialis posterior or Soleus) was very painful on this slope.
It was a little bit swollen all the way shortly after the start,
but I never mind it then, all was left for the doctor later.
It was so fast that I asked my father and mother to take photos for me at 2 pm,
and they simply missed it.
4 hr 45 min 33 sec , overspeed finish!
Men's Open; 357 th place.
Overall : 432 th place.